Follow you heart
Vote your favorite dating site
Dating Observer starts as a reference point for all those users who are looking for some info and feedback related to the best Dating sites currently available on the web. The mission of this portal is not to give a personal opinion on the website, but to objectively gather information and then, let the users decide. Actually it's you, users, who decide through your preferences, voting one after another, which site deserves more trust among the ones present in the above mentioned category.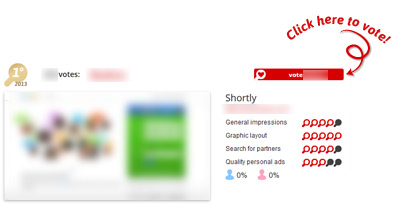 Voting is easy. Enter into one of the site's categories, choosing among: online dating, casual dating, matchmaker, social dating, adult dating. Look for the website you like the most, which you've actually tried and according to you is the best of its category. Express your preferences by clicking on the voting button



Every year, we gather your votes and build up the final ranking for each category. A ranking, which we hope will guide the future new users making a correct and aware choice of the most suitable meeting site to their needs.